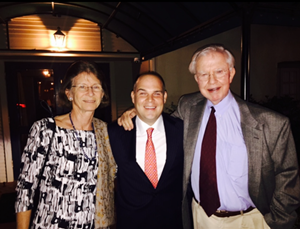 Parents want to know their kids are growing up happy. Bryan Hixon's dad knew that racing made Bryan happy. In his final days, he made sure to encourage Bryan's passion. From his hospital bed, Bryan's dad told him to start his own race team.
It was essentially his fault that Bryan loved racing so much. George, a prominent San Antonio businessman and community leader, played a part in creating the San Antonio Grand Prix, where Bryan's affinity for motorsport began.
"That's when I got my taste for racing," Hixon said. "I loved the smell, the sound, especially the sound ricocheting off the buildings and the sights and colorful cars."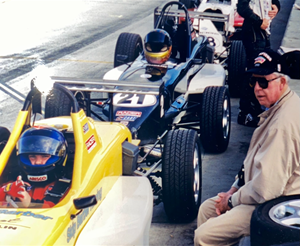 Going to high school down the road from Lime Rock Park didn't help either. And when graduation day arrived, it shouldn't have surprised George that his son wanted to make racing his profession.
"He said 'I'll send you to racing school, but you have to finish college first.'" Hixon recalled. "I thought 'oh my gosh I'm going to be the oldest driver starting to race.'"
George was good on his word and Bryan attended Skip Barber Racing School after graduating from college. That's where he was introduced to MX-5 Cup racing and he did quite well, winning several MX-5 Cup Skip Barber Challenge championships.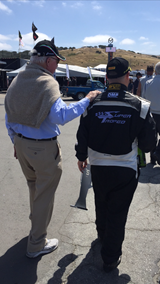 "What I miss the most is, he was the only one that called me 'champ,'" Hixon said. "Because a lot of people seem to think it's easy, but my dad realized how much effort it took to win a whole championship, not just a race. He was the only one that ever called me 'champ' and it made me feel really good and I miss him saying that."
Bryan took a break from racing due to some rough times personally, not the least of which was his beloved father being hospitalized after a stroke.
"He asked me what I was planning to do with the rest of my life," Hixon recalled. "He said 'I hope you continue racing.' I told him 'I've been out of the car for four years and I've looked at the talent and I can't keep up with the talent, I can't win a championship with my own hands and feet.'"
"I think something told him 'I need to have this talk with my son while I can still have it,'" Hixon continued. "It was a special moment and it was strange how my mom left the room, he woke up and we had that conversation. He was a man of few words. To me, I realized that anytime he spoke it meant something. As soon as he said 'son I think you need to start your own team,' then he drifted off back to sleep. It was a special moment between father and son. It's storybook, because it's true that that was my last coherent conversation with him."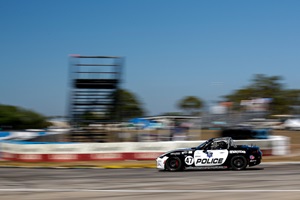 George Hixon died in 2018, but his spirit still resides within Hixon Motor Sports. Bryan could feel his father's guidance lead him to find all the elements he needed to start a race team. Hixon Motor Sports has a family atmosphere and a desire to give back, something that Hixon Senior would have surely appreciated if he got to see it today. Several cars in the Hixon stable run charitable organizations on their livery; Bryan carries Blue H.E.L.P. a group that brings awareness to police officer suicide and PTSD, Selin Rollan has Autism Speaks and Loni Unser has The Peregrine Fund for the conservation of birds of prey on her car.
"My dad would be super happy that all this charity stuff is going on, because that was the nearest and dearest thing to his heart," Hixon said. "I know he would have loved that."
He also would have been thrilled with the team's results. HMS went from a two-car operation in 2020 to entering eight cars at Daytona, four of which had female drivers in them. Halfway through the 2021 season and Rollan is sitting third in the driver championship.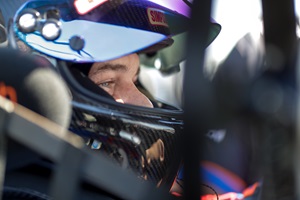 "I absolutely have moments where I know he's watching out for me or talking to me," Hixon said of his father. "It's usually when I go off track and save it. A lot of times I think he helps me at night, calm down. Racing is a very expensive endeavor and it does keep me up at night. On the dream side, I have very vivid dreams and he's always there to calm me down and hit the reset button."
Hixon has big goals when it comes to being a team owner, so it definitely helps to have an angel on your shoulder and Shea Holbrook as manager.
"I'm really going for it," Hixon said. "I hope one day, people say 'wow, that was the most passionate team owner I've ever met.'"